Interethnichealthalliance.org – Main Page
IHA MISSION STATEMENT
Provide humanitarian assistance and promote grassroots self-sustaining industry in orphanages, schools and among womens groups.
We do -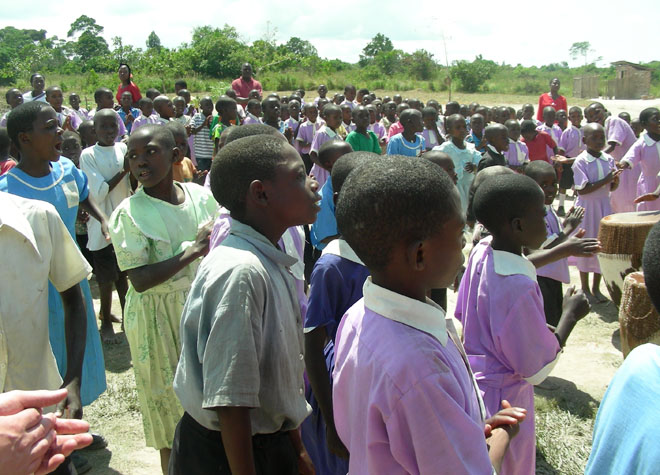 Worldwide, there are an estimated 115 million orphaned children, with 2 million in Uganda alone. Many of these children lack access to basic education materials, such as books and computers, which are routinely discarded in America. The Interethnic Health Alliance aims to help children and women by:
Providing educational materials to schools and orphanages
Providing medical supplies to orphanages
Providing micro loans to women's groups
Promoting self-sufficiency projects in orphanages
Providing computers to refugee families settling in the Salt Lake City, UT area.
Accomplishments-
SUMMER 2009 HUMANITARIAN MISSION
During the summer of 2009 IHA, in conjunction with several other organizations and community volunteers, conducted a joint humanitarian mission to Uganda. During a three and a half week visit the teams accomplished the following projects: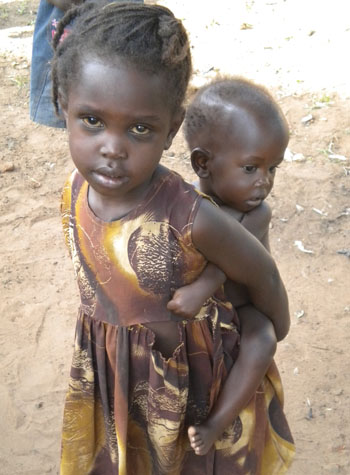 Phase 2, Girls Dormitory – Added a 35-foot by 25-foot building to increase space for a girl's dormitory at Byana Mary Hill Orphanage. Concrete pathways, patio, and steps were consructed for improved access (to avoid mud during the rainy season).
Women's Health Seminars - Conducted public health seminars at seven communities involving over 900 women. The seminars covered a variety of health, hygiene, and reproductive issues. Topics included HIV and sex, menopause, breast feeding (including HIV positive women), infant and child nutrition, and drinking water. They also included women's fertility cycle and making reusable hygiene kits (sample kits were provided).
Children's Health Seminars – Provided public health seminars to over 600 children. Seminars covered the importance of hand washing and dental hygiene. The seminars were conducted in conjunction with the women's health seminars.
Eye Glass Project - Eye testing was conducted for approximately 1000 individuals and about 800 pairs of glasses were distributed.
Sewing Machine Project - Provided manual sewing machines to three women's groups and left funds for the purchase of two more. In return, the women agreed to help sew uniforms for schools and orphanages in their area and make hygiene kits.
Solar Energy Project - Provided 250 individuals with information on the use of solar energy for cooking and preservation of fruits and vegetables. Constructed two solar dryers and provided funds to several orphanages and schools for construction of four more.
Medications – Funded the purchase of medication to two orphanages.
Small Business Seminars – Presented concepts for small businesses to several women's groups comprising about 450 women. Made plans to create a revolving loan fund to foster women-owned small businesses. It is hoped that money can be raised in the future to finance the fund.
Computer Donations – Donated laptop computers to two orphanages and one vocational school. The computers donated to the orphanages were equipped with math, reading and spelling software covering several grade levels.
2008 ACCOMPLISHMENTS
Computer Donations – Donated laptop computers and books to the Uganda Martyrs Orphans Project. Donated computers to a school in San Salvador, an orphanage in Kenya, and refugee families in Salt Lake City, Utah. Also donated a computer to the OFFUGO Educational and Cultural Trust Orphanage in India.
Food and medications – Donated funds to the Hope Children Center in Uganda to purchase food and medicine. Donated funds to the Byana Mary Hill Orphanage in Uganda for medical supplies.
Educational supplies – Donated book backpacks to the OFFUGO Educational and Cultural Trust Orphanage in India
The stories -
Here is one story and picture of the women we are working with.  We interviewed 128 women and 10 men across some twelve communities.  These women and men are forming associations and applying for micro loans.  We have compiled 4 stories so far and plan to do ten.
One Story is aboutAnastansia
My name is Anastansia and I am so old that the Lord laughs at me. I am married but it is worse than being a widow because he is too tired to work and just sits and stares at you all day. He always wants to eat but does not dig or prepare food. We live in a house with a big crack in the wall and five orphans. God works miracles, because somehow the school fees are always paid. To make money I buy extra paraffin or soap and sell it to my neighbors for a high price. Sometimes there is extra food from digging that I sell to them. We are all sick, but cannot afford medicine. The only thing that would make life better would be if God could provide more money to care for the orphans.
About John -This is Dr. John Shavers, Board Chairperson talking about his life and about IHA originated. He wanted me to state that this video has little to do with  the Interethnichealthalliance.org. This is his views and not the views of the IHA. So in keeping with that you will have to go to another page called MY Life and Spirituality to find the video.
Projects We are doing -
As a result of several generous donations, IHA has been able to greatly expand its micro loan program.  Nine loans have been approved as 12/28/2010 and we anticipate funding an additional nine by summer 2011.
IHA has recently received a large donation of 300 used solar panels (20 year estimated remaining useful life) from Renewable Energy Resources.  The panels will be installed in some 50 rural schools (and ten clinics) to provide solar power.  Each school will be provided one to two laptop computers equipped with learning software.  This project is estimated to enhance the educational opportunities for 10,ooo children in Uganda.
Through a donation of 15 solar lamps from Black Diamond Equipment Company and six solar panels from Positively Energized LLC, solar lanterns and solar recharging systems were provided to 3 women's associations as a seed project.  Students at Great Aubry College were instructed concerning the setup and they, in turn, provided instructions to the women.
What we can do -
Here are some ways you can help:
Raise awareness of the plight of children on our planet
Become a part of our organization
Make a donation
Join us on a mission to one of our project areas
Some more videos about IHA HERE.  Some talking about what IHA is and about what we can do to help and some of the projects they are working with. They are good videos. John is amazing and the interethnichealthalliance.org is an amazing site. I like this because it shows a real down to earth view of helping others get on their feet and then seeing them create without your help. For me its very similar to being a parent. I love this also because you can see on a very personal level the help your money and time goes to. Very personal site.
Contact –
For inquiries, contact Dr. John Shavers, Board Chairperson
801-205-7810
info@interethnichealthalliance.org